November 09, 2021
Badger Technologies Deploys PatrolBot Autonomous Security Robot at the National Veterans Memorial and Museum
Multipurpose Robot Seamlessly Integrates with TrackTik Software to Augment Security Guard Operations; Industry-Leading Technology to be Showcased in Live and Streaming Veterans Day Event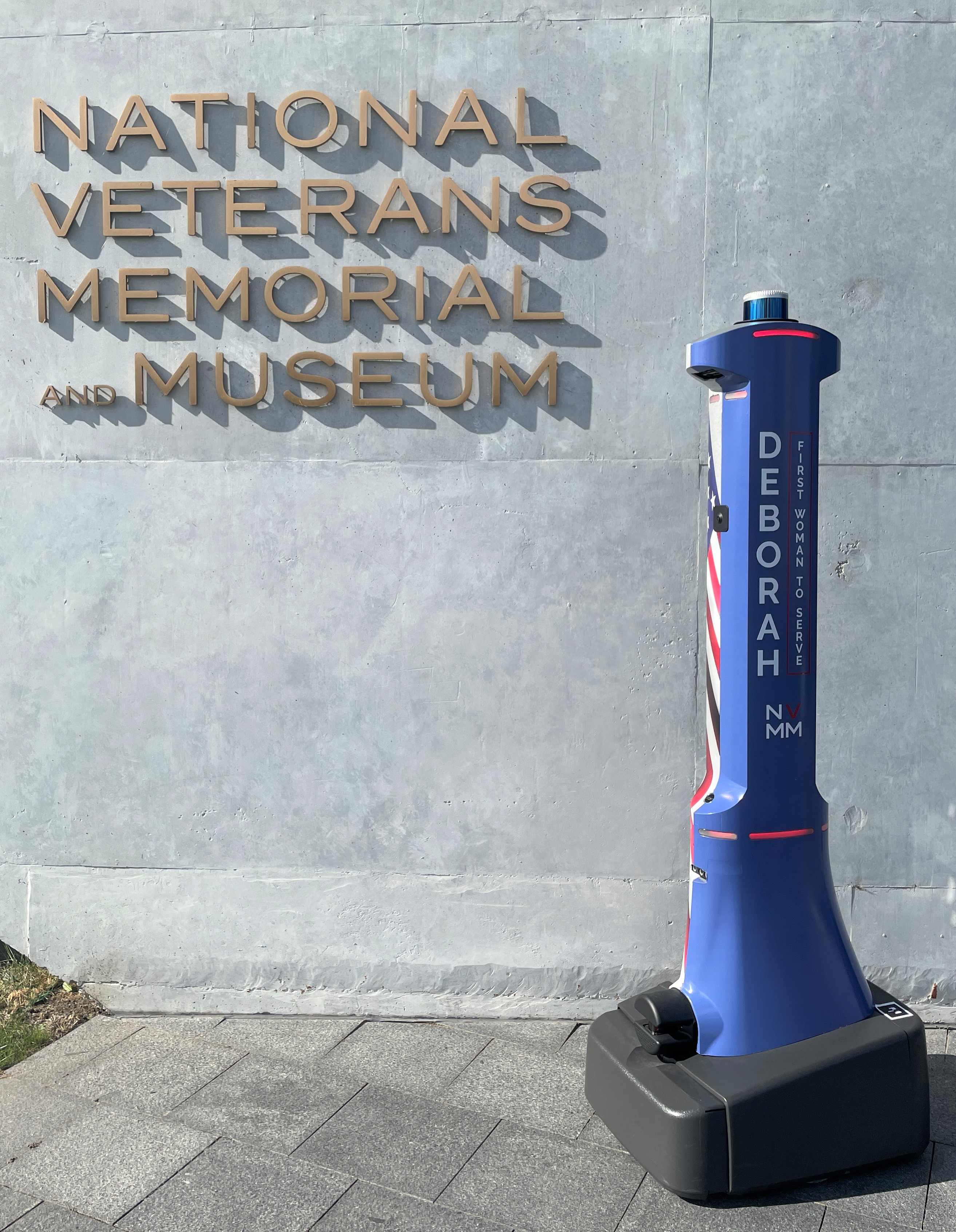 November 9, 2021 – Badger Technologies, a product division of Jabil and leader in retail automation, is collaborating with TrackTik Software, a leader in cloud-based security workforce management, to automate manual security checks at the National Veterans Memorial and Museum (NVMM) in Columbus, Ohio. A pilot program is underway using Badger™ PatrolBot™ autonomous robot and TrackTik software to augment the museum's 24/7 security team, safeguard world-class exhibits and offer an extra measure of protection to museum visitors and staff.
As the nation's first and only memorial dedicated solely to telling the stories of veterans, NVMM is honoring the courageous women who have served their country by naming the robot "Deborah" after Deborah Sampson. A Massachusetts native who disguised herself as a man to serve in the Continental Army during the American Revolutionary War, Deborah is one of several women with a documented record of military combat experience in that war.
"The museum is pleased to pilot this autonomous security robot while honoring one of the nation's first female heroes of the American Revolution," said Col. William J. Butler, U.S. Army (retired) and chief of staff at the National Veterans Memorial and Museum. "Our ability to extend security guard operations using robotics also builds on a military tradition of leveraging leading-edge technologies to continuously improve operations."
The Badger PatrolBot autonomous robot also will participate in NVMM's Veterans Day 2021 celebration on November 11th, which features distinguished veterans and guests, including Gen. Les L. Lyles, former vice chief of staff of the U.S. Air Force; and Lt. Gen. Michael Ferriter, U.S. Army (retired) and president and CEO of the National Veterans Memorial Museum. Admission to the museum is free on Veterans Day. Badger Technologies and NVMM also will be hosting a robotics educational session for students and guests as part of the Veterans Day celebration.
"It is a privilege to support the National Veterans Memorial and Museum in showcasing how world-class robotics can improve security operations," said William "BJ" Santiago, CEO of Badger Technologies.
"Security operations for the museum can direct the robot's duties for 12 hours on a single charge to cost-effectively augment labor while extending the reach and efficiency of their security patrols."
Equipped with streaming video cameras, the Badger PatrolBot robot initially will navigate automatically around exhibits and people to verify that windows, doors, and exhibits are secured and properly sealed. During the second phase of the pilot, the robot also will verify that floors are free of debris and potential hazards.
As part of a total security solution, Badger PatrolBot will take advantage of TrackTik's Application Programming Interface (API) to streamline security guard tour scheduling, real-time checkpoint logging, incident reporting, GPS tracking, messaging and alerts.
"We are deeply honored to be part of the National Veterans Memorial Museum celebration in support of the United States veteran community," said Simon Ferragne, CEO and founder of Montreal-based TrackTik Software. "Our strategic partnership with Badger Technologies has allowed us to deliver an enhanced security workforce management solution using robotics to transform security guard operations and deliver more value to our clients. Together we are driving innovation and growth that will benefit all of our clients and the communities in which they serve."
About Badger Technologies
Badger Technologies is a product division of Jabil (NYSE: JBL), a manufacturing solutions provider that delivers comprehensive design, manufacturing, supply chain and product management services. Badger Technologies® retail automation solutions feature autonomous robots that capture and share valuable data designed to improve operations and financial performance. Retail robots automate hazard detection and expedite issues resolution while also addressing a host of inventory and data disconnects to improve profitability and shopping experiences. Badger Technologies also has developed an autonomous ultraviolet disinfecting robot designed to combat high-risk pathogens and an autonomous robot for the security guard industry. More than 550 Badger Technologies autonomous robots have been deployed by the company throughout the U.S. and Australia.
For more information, contact:
Michael Kovacs
Senior Director, Marketing, Jabil
+1.408.427.1191
michael_kovacs@jabil.com